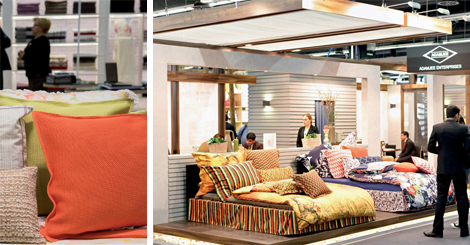 The product group "bed" with bed linen, bedding, covers, decorative pillows and mattresses was also added to growing segments list at Heimtextil.
Heimtextil, world's largest home textile fair held in Frankfurt, Germany, hosted 2866 companies from 69 countries including 211 companies from Turkey. Hasim Buyukbalci, general coordinator of TETSIAD, Turkish Home Textile Industrialists and Businessmen Association, pointed out that number of Turkish companies in the event is growing year after year. The fair is an important opportunity to promote Turkish home textile products to international markets. Professional buyers and buying committees from all over the world meet with their counterparts, participants and visitors to seek opportunities for better business deals.
Turkish companies were the fifth largest group in the fair in terms of number of participants and cover the second largest space after German firms. Hasim Buyukbalci said on the occasion, "Unfavorable developments in neighboring countries caused some problems for home textiles industry in Turkey. We also trying to overcome the problems caused by recent events in Russian market and to shift exports to German market. We begin to get results of our efforts.
Getting and reaching new market to balance the loss in exports is our main target these days. Turkish home textile industry ranks at the forth place in the world. We have a strategy to grow more in the American market. We aim to increase the share of high value added products in our exports to European countries. We also seek new markets.
Japan is important for us in this regard. We collaborate with ITKIB in order to participate nationally in Interior Lifestyle Fair that will be held in Tokyo by Messe Frankfurt. We got the permission for national participation and heavy demand. Economy Ministry supports 70 percent of costs for the participation in this fair. Though it seems hard to enter the market, Japanese market will bear fruits in the future as a result of our efforts. Besides these, African continent, especially South Africa is among our target markets list." The fair was held with a clear increase in the number of exhibitors and visitors. Over 69,000 trade visitors (2015: 67,861) and 2,866 exhibitors (2015: 2,723) from across the world travelled to Frankfurt from 12-15 January to start the economically promising 2016 business and trade fair year together.
Detlef Braun, CEO of Messe Frankfurt, was visibly satisfied with the outcome: 'The world world of textile interior design came to Frankfurt and the increase in exhibitors and visitors alike speaks for itself. The positive economic indicators also boosted discussions between suppliers and purchasers. Heimtextil has thus impressively consolidated its position as the top global meeting place for the industry'. This statement was confirmed by Cristobal Montero Álvarez, purchaser at Europe's biggest department store chain El Corte Inglés: 'For us, Heimtextil has been the most important trade fair when it comes to the purchase of home and house textiles for a number of years.
No other trade fair offers hibitors. The quality and price of suppliers at Heimtextil appeals to us. This year, we were particularly impressed by the new technical solutions in the sun protection segment'. More international exhibitors than ever before Heimtextil in Frankfurt is by far the most international event of its kind. 'From northern Europe to South Africa, from America to Asia: visitors to Heimtextil come from across the world and all of them want to see the latest trends in the textile market', summarizes Paola Ribera of the décor and furniture supplier Texathenea from Spain.
As was the case last year, 68 per cent of trade visitors came from abroad. There was an increased number of visitors from Italy, Spain, Sweden, Russia, Japan and South Korea in particular at Heimtextil 2016. However, it is not just the visitors, but also the exhibitors that form a microcosm of a global industry. 89 per cent of exhibitors (2015: 88 per cent) come from abroad. This year's Heimtextil saw a growth in exhibitors from Europe, in particular Turkey, Italy, the Netherlands and Belgium, as well as global exhibitors from many countries including Brazil and the USA. Growing product segments In terms of products, Heimtextil was able to considerably expand its portfolio in various segments. For the fast-growing segment of décor and upholstery materials, hall 4.0 was even equipped with a new, additional hall level, where primarily high-quality exhibitors from Italy showcased their wares.
Textile digital printing with all the market leaders such as Epson, Hewlett Packard, Kornit, Mimaki and Zimmer was also considerably expanded in comparison to last year. The product group "bed" with bed linen, bedding, covers, decorative pillows and mattresses was also added to. The increase in mattress manufacturers in particular, such as Rössle & Wanner and f.a.n. Frankenstolz, who were both exhibiting at Heimtextil again after several years' absence, was warmly received by trade visitors.
Jessica Schwarz, Nena, Guido Maria Kretschmer, Barbara Becker The glamour factor was once again a major element in 2016. Actress and hotel owner Jessica Schwarz was an honorary guest at the opening press conference on Tuesday, informing the public that she intends to expand her hotel in the Odenwald town of Michelstadt. On Thursday she took the opportunity to go on a purchasing tour through the halls for this very purpose. Also present on Tuesday was musician and artist Nena, who presented her new wallpaper collection at the Marburger Tapetenfabrik stand and rocked the house in the evening in front of an audience of invited guests. Ullrich Eitel, CEO of Marburger Tapetenfabrik, was inspired: 'The collection by Nena was the main focus of our trade fair presence. And Nena herself was of course the absolute highlight. Heimtextil offered the perfect platform for this.
We could experience Nena because the affinity to wallpaper was there. We've put Nena's signature on the wallpaper. The Nena collection was very well received by our customers and we had the perfect start to 2016. The fringe event with Nena, i.e. the presentation at our stand, the interview and, last but not least, the concert in the evening, provided the perfect way to round off our presence. Nena garnered the full support of and inspired enthusiasm in our guests'. On Wednesday, it was star designer Guido Maria Kretschmer's turn to be honored in the Frankfurt trade fair halls.
At the P+S International stand, he presented his wallpaper collection "Fashion for Walls" and was pleased about being there: 'For me, Heimtextil is an excellent trade fair because it's all about interiors and materials. It's great to see the world coming together here and people bringing new looks and how everything is organized'. The next Heimtextil, international trade fair for home and contract textiles, will take place from 10-13 January 2017 in Frankfurt am Main.